After days of dealing with my roasted chickens, braised pork loins, stinky cheeses, and excessive vegetables the Hatcher family had enough and decided to change direction for the conclusion of our quasi family reunion. Am I'm glad they did. Sunday was reserved for the endearing and enduring Hatcher family classic: chicken fried steak.

Born probably as

Wiener Schnitzel

and brought to Texas in the late 19th century by Austrian and/or German immigrants, the batter-fried piece of cube steak is the quintessential cowboy food. And though none of the current batch of Hatchers have ever made a living as a cowboy, many of the old-timers and continuing all the way down to my two older sisters are from or close to the part of the country that claims to be the birthplace of the chicken fried steak: the Llano Estacado, Texas Panhandle, and Red River Valley areas of Texas. I thank my lucky stars I can claim honestly that I'm from Colorado rather than Texas but I am thankful
also
that some of the state's rich traditions haven't escaped me entirely. Chicken fried steak, Texas-style barbeque, black-eyed peas, fried catfish, pecan pies, and hushpuppies are just a few delicacies that leave warm spots in my heart (pun intended). I will reserve my love affair with Western Swing music and Townes Van Zandt for another day.

And so it was that the family gathered, the assembly line assembled, and the Crisco started popping. First came the appetizers, though, and a mélange of convenience foods that I haven't seen the likes of for many years. I single-handedly devoured the cup of bright orange Frito jalapeno (flavored) cheddar (flavored) cheese dip using Fritos Scoops! corn chips. Yes, Scoops! is spelled with an exclamation point.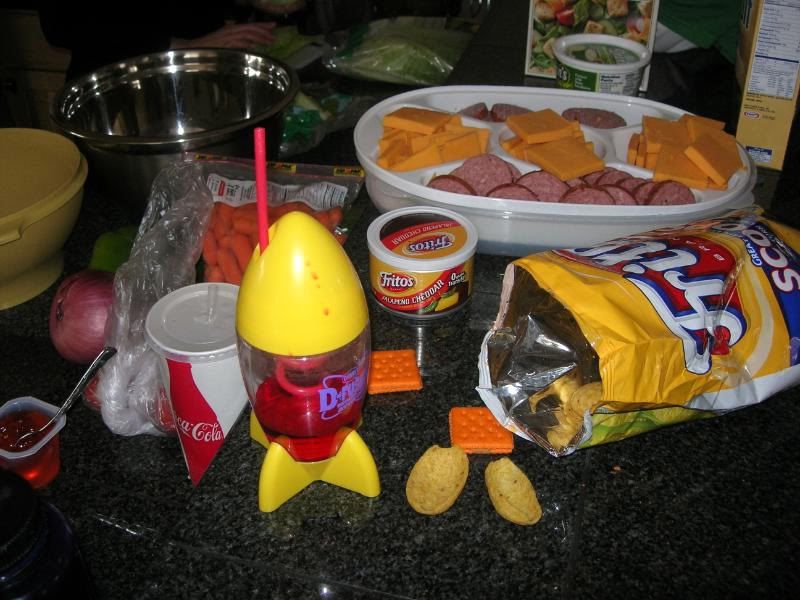 Like good Texans, there is always plenty of iced tea in the fridge. Anymore, however, I have problems finding a reason to drink anything else besides water, coffee, and red or white wine. I hauled a bottle of 1999 Branson Coach House Shiraz out of the Elko cellar and saved it for just such an occasion. A fine wine but it could stand another ten years of cellar time, even after three hours of decanting in Mom's coffee pot.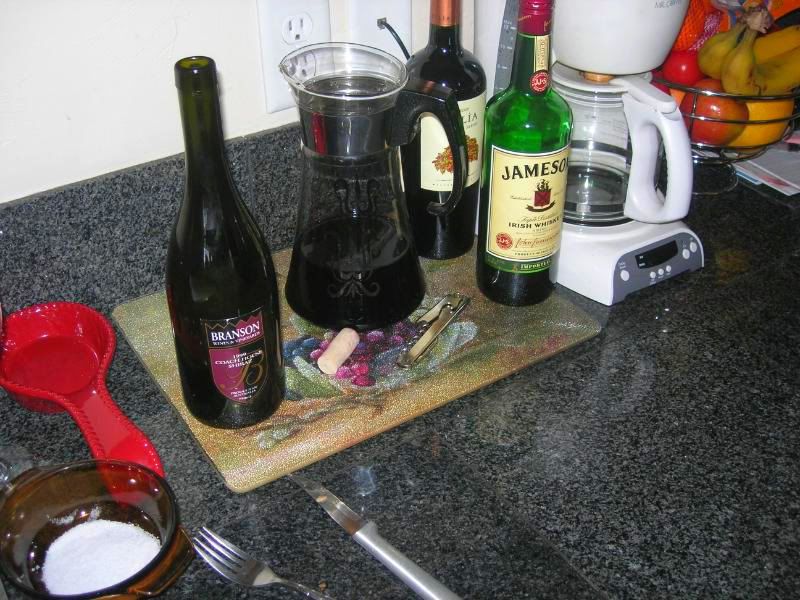 It was a family affair--except for me who couldn't stop eating the bright orange "cheese" goo and drinking underage shiraz. Sister #1 was on the mashed potatoes; Sister #2 at the batter dip station; Nephew #2 fried while Nephew #1 washed dishes. Nephew #1's wife made salad and admitted giving up on the sacred tradition of cooking chicken fried steak because she couldn't compete with her mother-in-law or grandmother-in-law's versions. Dad watched grown men on TV beat each other up over an egg shaped ball while Mom generously entertained the

niños

. My brother waited in silence as the experts took over, his

haute cuisine

variations on the classic--like the addition of paprika and finely ground Parmesan cheese to the flour mixture--were quickly dismissed as heresy. No need to improve on this classic.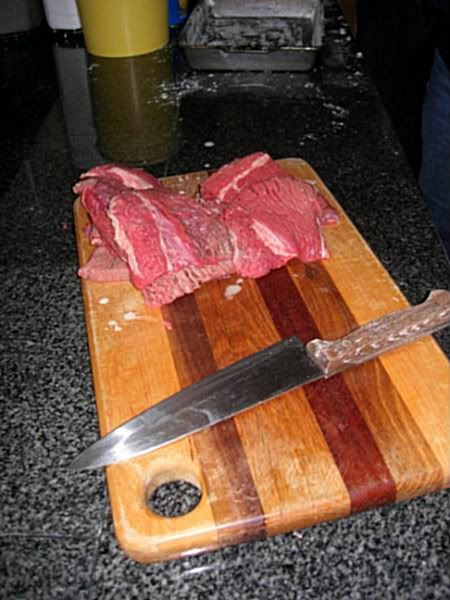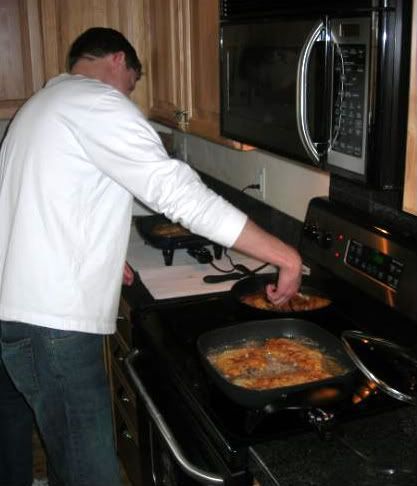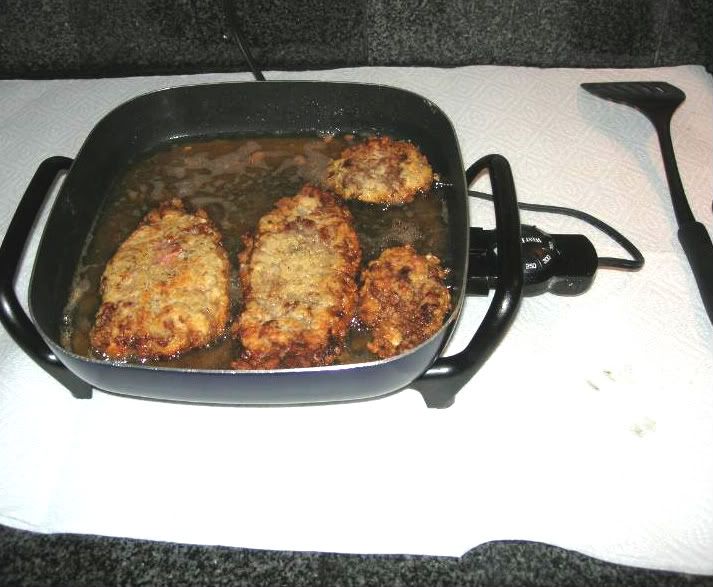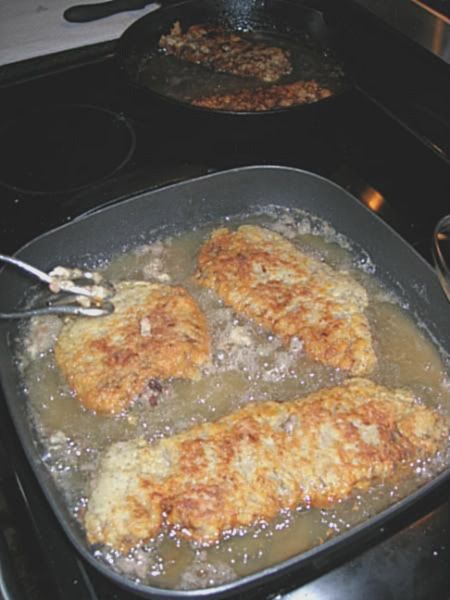 The white gravy wss thickened, the table was set. Corn was heated and the bottles of Heinz 57 and A1 were pulled from the refrigerator. A faux blessing was given and Judy Garland, Johnny Hartman, and Blossom Dearie replaced the Steelers and Chargers. We descended upon the steaks and in a flash it was all over.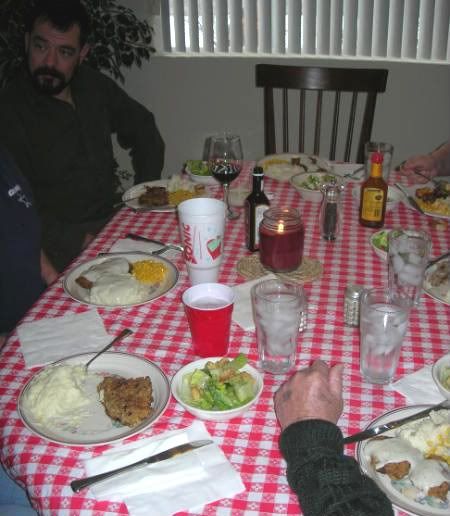 Take it away, Bob.